This article seeks to show that how Nielsen Media Research chooses its ratings families may alter the accuracy of the Nielsen's ratings. More than this, this article seeks to uncover just how antiquated and unreliable Nielsen's household rating system actually is. Let's explore.
What is Nielsen?
I'll give a small synopsis here, but Wikipedia does a much better job at describing who and what Nielsen Media Research (one of this company's many names) is. For all intents and purposes, I will refer to Nielsen Media Research as simply Nielsen for the purpose of this article.
Nielsen is a research group who seeks to identify how viewers, among other avenues of information that they gather, watch Television. During the 70s, this was the primary means by which TV executives learned the ratings fate of their television programs.
How does Nielsen work?
Nielsen still relies on its Nielsen households to provide the vast majority of its television ratings information. It does this by sending out unsolicited mail to households around the country attempting to solicit a household into becoming a Nielsen household. By using this moniker, it means the family who resides at a specific household must do certain things to not only participate in the Nielsen program, but must also provide feedback to Nielsen around its viewing habits.
How does Nielsen collect its ratings information?
According to Nielsen's own site, it says the following:
To measure TV audiences and derive our viewing metrics (i.e., ratings, reach, frequency), we use proprietary electronic measuring devices and software to capture what content, network or station viewers are watching on each TV and digital devices in the homes of our Nielsen Families. In total, we measure hundreds of networks, hundreds of stations, thousands of programs and millions of viewers. In the U.S., electronic measuring devices and millions of cable/satellite boxes are used to provide local market-level viewing behaviors, enabling the media marketplace to gain a granular view of TV audiences.
What that means is that, as a Nielsen household, they will send you a device and/or require you to install certain software on your existing devices which will "measure" your viewing habits. In other words, they spy on what you're watching and it reports back to Nielsen what you specifically watched and for how long. For example, Nielsen might install software onto your smart TV device, Roku, TiVO, Apple TV or possibly even your cable TV provider's supplied box.
Nielsen may even be willing to supply you with their own device, which you will place in-line with your existing TV and devices. It does say "devices and software", meaning one or both can be used.
Rural vs Urban
Typically, larger urban city areas tend to vote Democrat more often than Republican. These urban areas are also typically more densely populated. On the flip side, rural areas tend to vote Republican more often than Democrat. Why is this information important? It's important to understand these facts because it can drastically alter the accuracy of Nielsen's ratings. Let's understand why.
For participating in being a Nielsen household, you're given a stipend. In other words, you're paid for this service. Let's understand more about this pay. You're paid around $10 a month to participate. If you remain a Nielsen household for a certain period, around 6 months, Nielsen will pay you a bonus. All told, for 6 months of service, a Nielsen household will receive around $200.
Here's where the Urban vs Rural comes into play. Rural areas tend to be more depressed economically. Meaning, income is generally less and the need for extra money is, therefore, higher. Urban areas tend to boom more economically meaning the need for extra money is, therefore, lessened.
If a rural household receives a card inviting them to become part of the Nielsen family, explaining all of the "benefits" (including the pay), rural viewers are much more likely to take Nielsen up on their pitch. It seems easy enough to get paid simply for watching TV. On the other hand, urban areas are less likely to take Nielsen up on their offer not only because the pay is so low, but because urban viewers are much more savvy around their privacy.
Who would intentionally invite a company into your household to spy on you, even for money? One might say, well there's Alexa. Alexa offers benefits to the user far greater than what Nielsen provides. Nielsen provides spying for cash. Alexa offers app features, smart house features, music, calling features, recipe helpers, and the list goes on. Nielsen's device(s) and software(s) don't provide those much extended features.
Nielsen's spying is one tracked and only helps out TV executives. I might add that those TV executives PAY Nielsen to gain access to this information. Which means that if you're a Nielsen household, you're getting paid out of money collected from TV executives. In effect, it is the TV executives who effectively sign your Nielsen paycheck that you receive. I digress.
Random Solicitation
Make no mistake, Nielsen solicits households through a random mail selection process. It sends pitch cards out to inform and solicit households to participate. They may even include a crisp $1 bill to entice the household. Nielsen knows that a certain percentage of people will take Nielsen up on their offer to participate in the program.
The difficulty is that this selection process relies on random chance for whomever chooses to participate. This goes back to Urban vs Rural argument. Because depressed areas are more "hard up" for cash, they are more likely to take Nielsen up on their offer than Urban areas, who urban viewers are not only likely to be mistrustful of spying using digital devices, these people also don't necessarily need the small-ish amount of cash that Nielsen is offering… considering the amount of time required to watch TV (and do whatever else Nielsen requires). Yes, Nielsen requires you to watch TV to participate. The whole thing doesn't work unless you actually watch TV.
This ultimately means that it is more likely rural Republican areas of the country are over represented in Nielsen's households and equally likely Democrat areas to be under-represented in Nielsen's ratings. While Nielsen has no control over who chooses to accept the "Nielsen Household" solicitation, Nielsen does control the parameters to entice people into the program. Thus, their parameters are skewed toward lower income households, which are likely to be in predominantly rural areas.
In other words, depressed rural areas are far more likely to need the extra cash and be willing to jump through Nielsen's hoops than more affluent urban areas. That's not to say that there won't be a percentage of viewers in urban areas as some households in those areas may elect to participate.
Disposable Income
Urban areas can be a bit more affluent than rural areas. Urban area residents may have more in disposable income, but also because it's a larger city, it has more entertainment options. This means entertainment options besides watching TV. When you live in a small rural town, entertainment options can be extremely limited even if disposable income is available. Rural townships tend to encourage more TV watching more often than urban areas where night clubs, restaurants, theme parks, opera, live theater events, shopping and large cinemas are common. More entertainment options means less need to watch TV as often.. except for specific shows.
Thus, urban viewers are less likely to want to participate in Nielsen's household program than rural viewers, whose entertainment options may be limited by both what's available near them and by their disposable income.
Extrapolation
Here's the crux of Nielsen's problems. Based on the over and under represented areas due to Nielsen's flawed selection process, they attempt to make up for this by extrapolating data. Regardless of how the households may be skewed, Nielsen intends to extrapolate its data anyway.
Nielsen estimates that it has around 42,000 households participating in 2022. Though, I'd venture to guess that that number is not completely accurate. I'd suggest Nielsen may have perhaps half that number actively participating at any one time. There might be 42,000 households signed up as a Nielsen household, but likely only a fraction actively participate at any specific moment in time.
For example, not every household will watch a specific sporting event when it's on. Only those who truly enjoy watching a specific football game might be watching a specific game. This could drop that 42,000 households down to under 5,000 viewers. If it's a local sporting event, it could drop that number down well below 1,000 and maybe even below 200 actively watching.
200 equals 1 million, 5 million, 100 million?
How does this affect the ratings? Good question. Only Nielsen really knows. The problem is, as I stated above, Nielsen uses extrapolation.
What is extrapolation? Extrapolation is the process of using 1 viewer to represent many viewers. How many is a matter of debate. It is a process that Nielsen has employed for many years, and it is highly inaccurate. It makes the assumption that for every one viewer watching, there will be a specific number also watching. How many are extrapolated is really up to Nielsen. Nielsen must come up with those numbers and herein lies the inaccuracy.
Effectively, Nielsen fudges the numbers to appear great (or poor) depending on how it decides to cull the number together. In other words, extrapolation is an exceedingly poor and inaccurate way to determine actual viewership numbers. Yet, here we are.
Digital Media Streaming
With digital streaming services, such as Netflix, Hulu, Amazon and Crackle… more specifically, devices such as DVRs like TiVO and devices like Apple TV, Nielsen's numbers may be somewhat more accurate when using these devices. However, one thing is certain. Nielsen still doesn't have 100% accuracy because it doesn't have 100% of every TV household participating.
Again, Nielsen's numbers may be somewhat more accurate because we now have active digital streaming devices, but Nielsen still employs extrapolation to inflate the data they collect. Nielsen takes the numbers they collect, then guess at how many might be watching based on each single viewer's behaviors.
Why Extrapolation over Interpolation?
Interpolation requires two distinct sets of data points in which to fill in the interior data gap between those two sets. Filling in data between two distinct sets of data is a bit more accurate than attempting to guess at data points outside of them.
With viewership numbers, it's only one set of data at a single point in time. Everything that is gleaned from that single set of data is always considered "outside" or "extrapolated" data. There's nothing in a single data set to interpolate. You have 42,000 households. You have a smaller number watching a TV program at any point in time. That's all there is.
If Nielsen ran two unique and separate sets of 42,000 households of viewers (a total of 84,000 viewers), interpolation would be possible between those to separate sets of 42,000. Nielsen doesn't utilize this technique, thus making interpolation of its collected data is impossible.
How Accurate is Extrapolation?
Not very. I'll point to this StackExchange article to explain the details as to exactly why. In short, the larger the number gets outside of the original sample size, the larger the margin for error… to the point where the error outweighs the value of the extrapolation.
One answer provides this quote:
[Extrapolation] is a theoretical result, at least for linear regression. Indeed, if one computes the so-called "prediction error" (see this link, slide 11), one can easily see that the further the independent variable 𝑥 is away from the sample average 𝑥¯ (and for extrapolation one may be far away), the larger the prediction error. In the link that I referred to one can also see that in a graphical way.
In a system where there is no other option, such as during the 70s when computers were room-sized devices, extrapolation may have been the only choice. Today, with palm sized internet enabled phones containing compute power orders of magnitudes faster than many of those 70s room-size computers, continuing to use extrapolation honestly makes zero sense… especially when accuracy is exceedingly important and, indeed, required.
Extrapolation Examples
If 1 Nielsen viewer represents 1,000 viewers extrapolated (1:1,000), then 100 Nielsen households watching suggests 100,000 viewers may actually be watching. If 100 Nielsen viewers watch a program and each household represents 100,000 viewers (1:100,000), then this suggests 10,000,000 viewers may be watching. Just by changing the ratio, Nielsen can alter how many it suggests may be watching. Highly inaccurate and completely beholden to Nielsen making up these ratios. As stated above, the larger the number diverges from the original sample size, the larger the margin of error… possibly making this data worthless.
These suggested extrapolated viewership numbers do not actually mean that that many viewers were, in reality, watching. In fact, the real viewership number may be far, far lower than the extrapolated numbers suggest. This is why extrapolation is a bad, bad practice. Extrapolation is always error prone and usually in the wrong way. It makes too many assumptions that are more than likely to be wrong.
Unless the person doing the extrapolation has additional data points which logically suggest a specific ratio is at play, then it's all "best guess" and "worst error".
How many businesses would choose run their corporation on "best guess"? Yet, that's exactly what TV executives are doing when they "rely" (and I use this term loosely) on Nielsen.
Biased
Even above the fact that extrapolation has no real place in business, because of its highly inaccurate and "best guess" nature, these numbers can be highly biased. Why? Because of the Urban vs Rural acceptance rates.
Unless Nielsen explicitly goes out of their way to take the under vs over represented nature of Nielsen households into account when extrapolating, what Nielsen suggests is even more inaccurate than I even suggest just from the use of extrapolation alone.
CNN vs Fox News
CNN has tended to be a more liberal and, thus, a Democrat favorable news organization. Though, I'd say CNN tends to be more moderate in its liberal Democrat leanings. Fox News, on the other hand, makes no bones about their viewpoint. Fox News is quite far right and Republican in too much of its of leanings. Fox News is not always as far right as, for example, Alex Jones or other extremist right media. However, some of its leanings can be as far right as some quite far right media. Here's an image from the Pew Research Center that visually explains what I'm describing: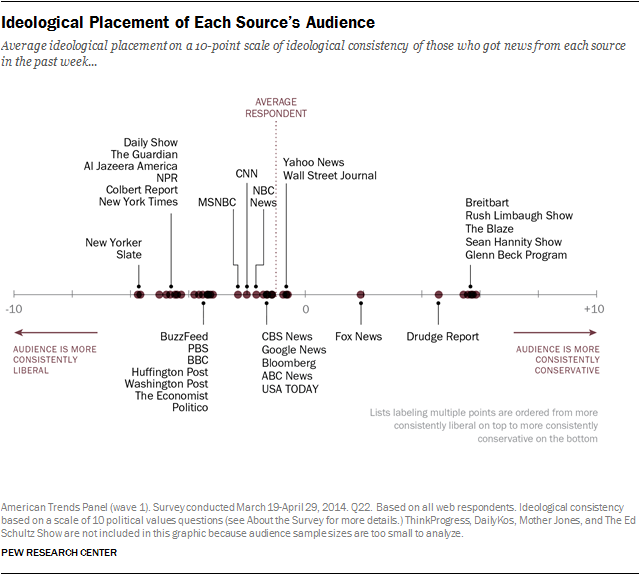 Whether Pew's research and datapoints are spot on, I'll leave that for you to decide. I've reviewed this chart and believe it to be mostly accurate in terms of each outlet's political leanings. Though, I personally have found PBS to be somewhat closer to the "Average Respondent" location than this chart purports… which is why even Pew might not have this chart 100% correct. For the purpose of CNN, Fox News and Hannity, I've found this chart to be spot on.
As you can see in the chart above, Fox News itself is considered a right leaning news organization, but not far off of center at around a 2. However, the Sean Hannity show is considered just as far right as Breitbart at about 6-7. CNN is considered slightly left leaning at around a 1 (less left leaning than Fox News is right leaning at 2).
What does all this mean for Nielsen? It means that those who are Republican, which tends to include more rural viewers than urban, those rural viewers tend to be conservative. Because Nielsen is more likely to see participation from rural viewers than urban viewers, due to its enticement practices, this skews Nielsen's accuracy towards conservative viewership and away from liberal viewership. Nielsen's enticement practice isn't the only problem which can lead to this skew, though.
Meaning, Fox News viewership numbers as stated by Nielsen may be highly overestimated and inaccurate. Quantifying that more specifically, Fox News viewers may be over-represented where CNN viewers may be severely under-represented. It further means that unless Nielsen actually realizes this liberal vs conservative under vs over representation disparity in its Nielsen households (respectively) and, thus, alters its extrapolated numbers accordingly, then its viewership numbers published for CNN vs Fox News are highly suspect and are likely to be highly inaccurate.
Worse, Fox News is owned by Rupert Murdoch. Because this man is in it for the cash that he can milk from the Fox News network, he's more than willing to pay-for-play. Meaning, if he can get companies to favor Fox News by asking them for favors in exchange for money, he (or one of his underlings) will do it. Murdoch can then make more money because more advertisers will flock to Fox News under the guise of more viewership. Fake viewership is most definitely lucrative. Because Nielsen extrapolates data, this makes faking data extremely easy.
Unlike YouTube where Google has no reason to lie about its reported views, Fox News has every reason to lie about its viewership, particularly if it can game other companies into complying with its wishes.
Nielsen Itself
Nielsen purports to offer objective data. Yet, we know that businesses are helmed by fallible human CEOs who have their own viewpoints and political leanings and who are in it for the money. One only needs to look at Rupert Murdoch and Fox News to understand this problem. Some CEOs also choose to micromanage their company's products. Meaning, if Nielsen's current CEO is micromanaging its ratings product, which is also likely to be Nielsen's highest moneymaking product, then it's entirely possible that the ratings being reported are biased, particularly in light of the above about Rupert Murdoch (who is also a Republican).
Conflict of Interest
When money gets involved, common sense goes out the window. What I mean by this statement is that since TV executives / networks pay Nielsen to receive its ratings results periodically, Nielsen is beholden to its customers. The word "beholden" can have many meanings in this "sales" context. Typically in business, "beholden" means the more you pay, the more you get. In the case of Nielsen, it's possible that paying more to Nielsen potentially means that business may get more / better ratings. That sort of breaks the "objective" context of Nielsen's data service. It's called "Conflict of Interest".
In essence, in this case it could represent a pay-for-play solution, a true conflict of interest. There's honestly no way to know what deals Nielsen has brokered with its clients, or more specifically with Rupert Murdoch's Fox News Network. Most companies who do sales deals keep those details close to the vest and under non-disclosure binding contracts. The only way these deals ever get exposed is during court trials when those contracts can become discovery evidence for a trial. Otherwise, they remain locked in digital filing cabinets between both parties. Even then, such contracts are very unlikely to contain words disclosing any "back room" verbal handshake deals discussed. Those deal details will be documented in a separate system or set of systems describing how to handle that customer's account.
Let me count the ways
There are many problems in the Nielsen's rating services that may lead to highly inaccurate information being released. Let's explore them:
Nielsen's solicitation of households can easily lead to bias due to its probability of luring in people who are hard up for cash (e.g., rural Republicans) vs those who are not (e.g., urban Democrats).
Nielsen's products and software spy on knowing users about viewership habits. Spying of any variety is usually viewed with skepticism and disdain, especially these days and especially by certain types of people in the population (usually liberal leaning individuals). Rural Republicans are less likely to understand the ramifications of this spying (and more willing to accept it) than urban Democrats (who tend to be more likely to work in tech based businesses and who see this type of spying as too intrusive).
Nielsen's numbers are "fortified" using extrapolation. Fortified is a nice way of saying "padded". By padding their numbers, Nielsen staff can basically gyrate the numbers any way they want and make any channels viewership numbers look any particular way. Which ties directly into…
Nielsen sells its ratings product to TV producers and networks. Because these deals are brokered separately for varying amounts of money, the network who pays the most is likely to see the best results (i.e., pay-for-play).
Nielsen moved away from its "on paper" auditing system to the use of digital device auditing. Because Nielsen removed the human factor from this ratings equation (and fired people as a result), it also means that fewer and fewer people can see the numbers to know what they truly are (or at least were before the extrapolation). Fewer people seeing the numbers means higher chances of fabrication.
Looking at all of these above, it's easy to see how Nielsen's numbers could be seriously inaccurate, possibly even intentionally. I won't go so far as to say, fake, although that's entirely possible.  However, because Nielsen employs extrapolation, it would be easy for a Nielsen staffer (or even Nielsen's very CEO) to make up anything they want and justify it based on its "proprietary" extrapolation techniques. Meaning, numbers stated for any network's viewership could be entirely fabricated by Nielsen, possibly even at a network's request or possibly even as part of that network's deal with Nielsen.
In fact, fabrication is possible based entirely on number 4 above. A TV network could pay significantly to make sure their network and their programming is always rated the highest, at least until they stop paying for it. With Nielsen's extrapolation system and when data can get played fast and loose, it's entirely possible for such a sales scenario to manifest.
Why are Nielsen's Numbers Important?
Advertising. That's the #1 reason. Companies using TV advertising wish to invest their advertising dollars into channels with the highest viewership. The higher, the better. Nielsen's ratings are, therefore, indicative that a higher ratings share means higher viewership. The problem is, Nielsen's extrapolation gets in the way of that. Regardless of whether or not cheating or fabrication is involved, the sheer fact that extrapolation is used should be considered a problem.
The only thing Nielsen really knows is that of the 42,000 Nielsen households that it has devices in, only a fraction of those households watched a given program or channel at any specific time. Meaning, the real numbers of viewership from Nielsen offers a maximum of 42,000 viewers at any moment in time… no where close to the millions that they claim. Any number higher than 42,000 is always considered fabricated whether extrapolation or any other means is used to inflate that number.
That companies like Procter and Gamble rely on those 42,000 Nielsen households to determine whether to invest perhaps millions of dollars in advertising on a channel is suspect. That companies have been doing this since the 70s is a much bigger problem.
In the 70s, when there was no other way to really determine TV viewership, Nielsen's system may have held some measure of value, even though it used extrapolation. However, in 2022 with live always-on internet enabled phone, tablet, computer, game console and other smart TV devices, measuring actual live viewers seems quite feasible directly from each device tuned in. If someone is live streaming CNN over the Internet, for example, it's not hard to determine and count this at all. If hundreds of people are streaming, that should be easy to count. If millions, it's also easy. Why extrapolate when you can use real numbers?
The days of extrapolation should have long ended, replaced by live viewer tallies from various digital streaming devices, such as phones, computers and Apple TVs. Whether these devices are allowed to phone home to provide that data, that's on each viewer to decide. If the viewer wishes to opt-in to allowing their viewership metrics to be shared with each TV station, then that's far more realistic viewership numbers than Nielsen's extrapolated numbers. If they opt-out, then those stations can't see the numbers. Opting in and out should be the choice of the viewer.
That's where privacy meets data sharing. Some people simply don't want any of their private data to be shared with companies… and that's okay. That then means some level of extrapolation (there's that word again) must be used to attempt inflate the numbers accordingly.
Let's consider that 42,000 is 0.01273% of 330 million. That's trying to represent the entire population of TV viewers in the United States from less than 0.01% of people watching. Insane! With always-on digital devices, if 10% opt out, that's still provides 90% more accurate viewership numbers than relying on Nielsen's tiny number of households. Which means there's way less amount of data to attempt to extrapolate. That advertisers don't get this point is really surprising.
Auditing
You might think, "Well, isn't Nielsen audited?"
Most companies dealing with numbers are typically audited. Unfortunately, I've found that working in a tech business which sees regular audits can still have fabrication. How? Because those who work on the technical side of the house are not those who get audited. Meaning, those systems administrators who maintain the logs and records (i.e. databases) aren't under the scrutiny that the financial side of the house gets.
If it relates to money and sales, auditing of the accounting books is a regular occurrence and must uphold specific standards due to legal requirements. Auditing when it relates to anything else is catch-as-catch-can, particularly when laws don't exist. Meaning, the auditors must rely on the statements of staffers to be accurate. There's no way for an auditor to know if something has or hasn't been fabricated when viewing a log.
Worse, if the company employs a proprietary algorithm (read private) to manage its day to day operations, auditors typically are unable to break through its proprietary nature to understand if there's a problem afoot. In other words, auditors must take what's told to them at face value. This is why auditing is and can be a highly inaccurate profession. I should also point out that auditing isn't really intended to uncover treachery and deception. It's intended to document what a company states about specific questions, whether true or false. Treachery and deception may fall out of an audit, but usually only if legal action is brought against the company.
In the case of money, it's easy to audit records of both the company and third parties to ensure the numbers match. In the case of proprietary data, there's no such records to perform this sort of matching. What an auditor sees is what they must accept as genuine. The only real way that such deception and fabrication becomes known is if an employee performing such fabrication blows the whistle. An independent auditor likely won't be able to find it without a whistleblower. Because jobs tend to be "on the line" around such matters, employees are usually told what they can and cannot say to an auditor by their boss. Meaning, the boss might be acutely aware of the fabrication and may instruct their employees not to talk about it, even if directly asked.
In fact, employees performing such fabrication of data may intentionally be shielded from audits, instead throwing employees who have no knowledge at the auditors. It's called, plausible deniability.
Overall
None of the above is intended to state that Nielsen fabricates numbers maliciously. However, know that extrapolation of data is actually the art of data fabrication. It takes lower numbers and then applies some measure of logic and reasoning that "makes sense" to deduce a larger number. For example, if one person complains of a problem, it's guaranteed a number of other people have also encountered the same exact problem, but didn't complain.
The art is in deducing how many didn't complain. That's extrapolation by using logic and reasoning to deduce the larger number. Extrapolation clearly isn't without errors. Everyone who deals in extrapolation knows there's a margin of error, which might be as high as 10% or possibly higher and which grows as the extrapolation data size increases.
Are Nielsen's ratings numbers accurate? Not when you're talking about 42,000 households attempting to represent the around 122 million households with TVs. This data doesn't even include digital phones, tablets and computers which are capable of streaming TV… which smartphones alone account for about 7.26 billion devices. Yes, billion. In the United States, the number of smart phone owners is around 301 million. There are more smart phones in existence in the United States (and the rest of the world) than there are TV's in people's homes.
So, exactly why does Nielsen continue to cling to its extremely outdated business model? Worse, why do advertisers still rely on it? 🤷‍♂️
↩︎
There are many, many YouTubers (and Instagramers) who claim to profess knowledge of a given topic. By far, a vast majority are in the beauty industry. After all, beauty sells. Unfortunately, while they may be pretty, many have few brain cells in their heads. Let's explore.
Social Media Sites: YouTube and Instagram
With the advent of social media sites, many young people have rabidly jumped on board to create content for these platforms. Some of these people (dare I say 'kids') have chosen to specialize in specific areas, like beauty products. I'll focus on these 'influencers' in this article. Can these (or any) 'influencers' be trusted?
The short answer to this question is, no. These are young people (many aged between 18 and 21) who have acquired just enough knowledge to be dangerous. Yet, they in no way should be considered "professional", let alone "knowledgeable". I won't name any names here. Even if I wanted to name names, there are actually far too many of these types of beauty channels to even point out a single one. Suffice it to say, there are many, many far too young beauty advocates on YouTube who may already have money, a palette of makeup and very strong opinions, yet actually have no skill or talent at all. Instead, with their limited talent at applying makeup, they have managed to amass a large following of young followers. Some have gained enough followers that they have been able to get product endorsements, sponsorships, monetization or have been approached to create product lines. Gaining followers is actually what they are good at, not applying the makeup, not creating the hairstyles, not selling makeup brushes.
In fact, many of their ideas can be downright dangerous. What they are actually good at is…
Hawking Products
And… that's not a reason to celebrate or follow anyone. As these "kids" become "personalities" on screen, what you're buying into isn't the their products, but their drama. Watching an 18 year old drag queen apply makeup like a pro may seem enthralling, but the reality is you have no idea how many times that person may have applied it until they got the application just perfect. Maybe they even hired someone to apply it on them pretending as though they applied it. As we all know, "Practice Makes Perfect." No where is this concept more important than on YouTube. Yet, fakery is everywhere, even in these beauty videos.
YouTube videos make the application of beauty products seem like a breeze. What you aren't seeing is all of days worth of practice and product testing that the YouTube "personality" (and I use that term very loosely) endured to make that video appear perfect. Even then, give them a few months and they couldn't even reproduce that look, if they even produced it the first time. Who knows if they even really applied the makeup themselves?
Unfortunately, the goal of being a celebrity is the want of money. In fact, many YouTuber's goals are to make money from the platform. That's their #1 goal. It's not about you, the viewer. It is about you, the consumer funneling money into their channel (and eventually into their products). Whether that money is via clicking advertisements or via Patreon or buying into their sponsored products.
This is why the once "down to earth" YouTuber turns into a flamboyant, loud, arrogant, controversial dramatic personality trying to get you to buy the latest Morphe brush set that you don't really need. It's about making THEM money and parting you from yours. It's not about reality, it's about sales and fakery.
Drama Advertising
YouTube drama and scandals are quite commonplace in the YouTube beauty arena. On the one hand you have a seeming drag queen who's boisterous, loud and obnoxious. On the other, you have another large personality who feels they are also entitled. When the two clash, it becomes a huge social media blow up. It ends up all over Twitter, Facebook, Instagram and, yes, YouTube.
The scandal and drama fuels their channels with tons of new subscribers, viewers and brings their brand front and center. Effectively, it's 'dramadvertising'. The question is, is whether all of that drama is …
Fake
One of the problems with YouTube is that so much of what you see is fake. With perfect cuts between takes, filters, expensive lighting and cameras and, yes, even the perfect application of makeup, the camera can make someone appear flawless.
With the makeup (or more specifically, fakeup), when you turn the ring lights off and take that person out into natural lighting, not only will the makeup application look like crap, you'll be able to see very crease, flaw and imperfection in the application. Even then, the makeup is so overbearing, you wouldn't really want to wear it anyway. With the right lighting and cameras, you can hide just about any imperfection. With the wrong lighting, let's just say that the personality is an amateur.
Additionally, much of the drama that shows up on YouTube is entirely fake and is staged as a publicity stunt. Just like YouTube celebs sometimes have seeming congenial collabs with one another, they can also script scandals in the same way. It's so easy for two personalities to meet and agree (to publicly disagree), to make a scene on social media designed to get their channels more viewers, more divisive comments and basically stir the pot. Sometimes stirring the pot is the only way to gain more viewers.
Several large beauty personalities have tried this approach in the recent past. Again, I won't name names as they don't deserve to be named on Randocity. I won't give them the satisfaction of increasing their channel's membership at the cost of my time spent writing this article. No. If you want to find those scandals from the recent past, you'll need to head on over to Google and do some searching.
Knowledge, Age and Acting
I'm not going to say there aren't prodigies in this world. There are. Unfortunately, none of them are on YouTube hawking beauty products. What you see on YouTube is random, usually "pretty" young guys and girls who have gained a following because of their seeming talents. Oh, they have a talent, but it's not teaching you beauty techniques. Oh, no no. The talent they have is parting you from your money and being a general scam artist.
At 19, I didn't have enough knowledge enough in any subject to be considered "professional" at anything. These same aged personalities on YouTube are also in this same boat. If they have any knowledge, it's likely because they paid for it by hiring someone to show it to them, or more likely, do it for them. That's not knowledge acquisition, that's acting… and not even very good acting at that.
In fact, anyone on YouTube who has a channel is acting. Some of that acting is, in general, for the betterment of the viewers by showing the viewers something interesting. This should be considered entertainment, not advice.
While I can buy into an actor on stage telling me a story, I can't buy into an actor behind a camera trying to sell me Morphe brushes. This was tried in the 90s via many, many…
Infomercials
Before YouTube became a thing, infomercials ruled. The talent that might have jumped in front of a camera for YouTube instead did so for Guthy Renker or other similar production companies. These companies have hawked all sorts of garbage throughout the 90s and 00s on late night TV.
These things including psychic readings, beauty products, acne products, hair care products, kitchen gadgets and even money making books. The array of crap advertised on infomercials is as varied as it is endless. Thankfully, infomercials were typically one-and-done. Meaning, only one infomercial was ever produced and when its run finally ran out months (or years later), the product disappeared from the airwaves.
YouTube
With YouTube, we now have a situation where the same crap that was hawked via late night infomercials has moved to YouTube as a daily, biweekly or weekly "show" (again, I use this term loosely). Because many of these personalities produce their own material, the structure of the video is random and chaotic. The one thing that isn't random is their want for money.
Worse, viewers seem to buy into this random chaos from a random "young" person. It makes them see more "real". Don't kid yourself, there's nothing at all real about a guy dressing up in drag for a camera. That's a show.
In all likelihood, when that "kid" gets home, the makeup, nails and hair all goes away and they go back to being average kid living with their parents. It's all for the camera.
This is the fallacy of YouTube. It's not real. It's not genuine. It's not even accurate. It's fakery and deception at its finest. The "Hi Guys… I appreciate you so, so much" is so disingenuous, it makes me want to gag. I can't even count the number of times I've heard a similar phrase from a YouTuber. It's all superficial and fake. Many of these kids turned personalities are likely even mentally disturbed. Yet, they can somehow compose themselves enough in front of a camera to appear 'sane' and 'normal'. These are people who are not and should never be role models, let alone ever consider befriending in real life.
Yet, companies like Morphe extend sponsorships to these damaged folks, not because they're good role models, but because they have 1 million or more YouTube subscribers… in other words, for all of the wrong reasons.
What is your damage?
An age old question, but very applicable to many YouTube personalities. Far too many of them, in fact. I simply do not feel comfortable taking advice from someone I don't know, let alone from a drag queen whose claim to fame is putting on flawless makeup using a social platform without any formal training. Really? You expect me to believe what you have to say simply because you're "famous" or because you look like you know what you're doing? No.
YouTube Fame
Many YouTubers seem to think that being famous on YouTube actually means something. It doesn't. If you want to be famous, and I mean seriously famous, you train to become an actor and you get hired in a blockbuster a film or highly rated TV series… then put on a performance that wins awards. That's fame. And, that's fame for all the "right" reasons… including displaying actual talent.
Being on YouTube because you can run a camera isn't fame. It isn't even celebrity. If anything it's considered being a "minor" celebrity… and that's being extremely generous. Being on YouTube doesn't require skill, it only requires a camera, an idea and your opinions. Again, I won't name any channels because the point of this article isn't to send you off to a YouTube channel to become a subscriber, it's to point out the problems with YouTube as a platform… and where YouTube stands today.
It's called YouTube with a YOU

There's a 'YOU' in the name. Which means, it's about you. The real you. Not about a sponsor. Not about your cat. Not about makeup. Not about advertising. It's about YOU. I think the platform has lost its reason why it came to be. When YouTube became about making money and lost actually being about 'YOU', then it became yet another lame commercial platform to sell stuff. And, that's exactly what it's become. One big advertising platform… from the embedded ads in the videos to the ads served up verbally in the videos by the creators.
In fact, it should probably be renamed 'AdTube' as that's what it has become. It's not about the 'YOU', it's about the 'advertising', making money and selling you, the viewer, something, anything.
I used to go to YouTube to find interesting people doing interesting things. To find funny, amateur videos. Today, it's about selling you something and making the creator money. When I go into a video and within 1-3 minutes a strategic product placement appears, I click away. Too many videos are now following this format.
With YouTube's crackdown on monetization, that's making even the biggest channels less and less money. I'm all for that. If YouTube turned off monetization tomorrow, it wouldn't make many creators happy, but it would bring the platform back to its roots… the reason the 'YOU' in YouTube exists.
YouTube should move the the highly commercial channels into a new network called AdTube. Get them off the YouTube platform and let YouTube go back to its roots. Turn AdTube into the network that allows these highly commercial, highly sponsored, advertising heavy videos (and channels) to operate. YouTube doesn't need these. In fact, because YouTube has basically degraded so badly, it's really just a matter of time before the platform ultimately implodes under its own weight and stigma. Google needs to make a choice and they need to make it fast.
Making Choices
We, as consumers, need to wake up and stop following (and buying stuff from) brainless YouTubers who have no skills or talents other than holding a camera. You have a choice to watch or click away. You don't even have to visit YouTube. Use your own critical thinking and stop watching channels that have 5, 10, 15 ads along with paid sponsorships in the video. That's not what YouTube is about, that's what both YouTube and Instagram have become.
You don't have to watch this drivel. You have choices. Turn it off and spend time doing something creative or with your friends or family. Learn something… like how to draw or paint or play a guitar. Pick up something that you can do and learn to do it. You don't need to watch someone on YouTube to be creative. In fact, watching YouTube does the opposite of making you creative. It robs you of precious time that you could be learning a skill, craft or how to play music. Spend that time bettering yourself rather than giving your money to someone and wishing you could be like them.
In fact, you don't want to be like them. They may appear wholesome and friendly on YouTube, but chances are they are far, far different from what they portray themselves to be. As I said, they're actors putting on a character. It's not real. It's not genuine. It's a character designed to rope you in and have you spend money on them.
Authentic YouTubers
Just to clarify, this article is not intending to rail against every YouTuber. I'm specifically calling out the big 1, 2, 10 and 50 million subscriber channels playing every trick in the book to get you to spend money. And more specifically, this article is aimed squarely at the beauty industry channels. These very large, seemingly successful channels are solely about one thing. Getting you to buy something. Chances are, if you do buy that something, that channel stands to make a hefty cut of the profits and you're left with a mediocre product you likely can't return and may not even be able to use.
If you want to buy products, do it at a store. Try the product out and then decide if you want it. Use your OWN judgement to see if it works for you. Don't believe the hype a beauty channel spouts. Believe what you see in person… at a store.
I'm not at all saying not to watch YouTube or even Instagram with the right frame of mind. Consider all social media channels as strictly entertainment. If it makes you laugh or gives you some other emotional response, great. But, don't get invested in the channel as if it were real or believable or even an authority. It's none of that. It's simply entertainment, plain and simple. In fact, this part applies to ANY YouTube channel. They're all simply entertainment with fallible and inaccurate information offered in video form, even with the most well meaning of intentions. As the saying goes, "Take it with a grain of salt." Which ultimately means, disregard the information as inaccurate and only watch as you would pure fictional entertainment. If the video content peaks your interest, go Google the topic and find out more from reputable sources.
From this perspective, YouTube is fine to watch… but don't invest money into the channel or into products hawked on the channel solely because you feel some kind of responsibility to the channel creator or because you believe what they say. Definitely, no. Simply by watching a YouTube channel does not obligate you to anything. The creator spent time putting together the video, yes. But you have no obligation to give them any money in return for watching their content. It was on them that they created and posted. Don't let the creator "guilt" you into feeling like you "need" to give them money. You don't. You also don't need to buy anything advertised on any channel.
If you do decide to donate to a channel or buy products from them, do it because you sincerely want to do it, not out of some sense of duty (or guilt) because you "watched" their videos. No, YouTube and Instagram and all other social media should be considered strictly entertainment. You don't need to open your wallet to any social media influencer… and you probably shouldn't.
↩︎
Tagged with:
ad revenue
,
ads
,
advertising
,
content
,
guilt
,
monetization
,
monetizing
,
money
,
scam
,
scams
,
video
,
youtube
Just when you thought that advertisers couldn't get any more annoying, along comes yet another technology that, on the surface, seems quite intrusive and may even become a privacy issue.  This time, it's on your cell phone.
Paying to hear ads?
It's not as if cell phone plans and cell plan minutes are cheap.  The average cost per minute is  around 10 cents.  Some postpaid plans may be able to get the cost down to around 7-8 cents per minute, but that's only for high dollar high volume plans.  The average small to mid-sized plan is usually around 10 cents per minute after taxes, fees and other charges have been tallied. With prepaid, the cost is 10 cents per minute.  I've yet to find one carrier that has less than 10 cents per minute prepaid plans.
That said, because you're paying for your service, you are also implicitly paying to not have advertising on your phone during your conversations with other people. Advertisers need to learn that when consumers are paying for something, advertising on that space is off-limits. If the advertisers want to help subsidize our costs for something, then we will be willing to tolerate external advertising. It's a give and take process here. So, advertisers (and those enabling this new technology) need to understand this part of the equation.
What exactly is this technology?
Good question. It doesn't have a cleverly coined name yet, so let's call it 'jam' (as in they're jamming up the airwaves with advertising in your cell phone call.. and it also rhymes with spam :). This new technology plans to use the carriers to interject audio advertising into the cell phone's audio stream during a call.  Specifically, during hold music and other 'dead air' times.
There's really only one place in the call flow where such advertising can be injected with new audio and that's on the carrier's equipment.  It's also possible that it could happen right on the handset through an actively running app.  Either way, 'jam' isn't what people want.
Advertising during dead air?  Why would we want that?
Well, the answer is as consumers, we don't.  So, why enable this technology? Because someone can.  That and that someone thinks they can make money from this service as well. Good luck with that business model. Anyway, the idea is relatively simple, but definitely not pleasant.  Worse, though, is that the advertiser may even have your personal buying habits and interject 'relevant' advertising into your call. Not that relevant advertising is bad, but it's rather creepy when it's injected into audio conversations of a cell phone. So, you're on hold waiting for someone to fix your computer and then injected audio steps in and advertises for that vacation to Hawaii you searched on the web just an hour before you called.  Ugh, creepy.
Worse, though, is what happens if their dead air recognizing routine fails and it begins injecting advertising in the middle of your conversation?  Ewww… now not only will you hear the ad, but likely so will your caller.  If you happen to be on a business call… well, all I can say is ewww.. messy and embarrassing.
Opt-out
For such a technology to have any hope of working to even any degree, there must be an opt-out mechanism.  If there isn't such an opt-out system, users will be calling their carriers to complain, that's a guarantee… especially if such an advertisement interrupts a business call.
Jam on businesses
The primary target for this advertising system is during hold time.  I admit that hold music is often boring and repetitive.  But, does that give the right to an unrelated third party to inject jam into your phone for their benefit?  And, what of the business on the other end providing hold music?  They may have advertising that they are counting on to up-sell their newest products.  Yet, if jam interrupts and begins selling 'relevant' advertising in the form of a competitor, how is fair to the company you're calling?  This system has now injected competitive advertisements without that company's consent.  I see this as a lawsuit just waiting to happen.
Carrier and phone level access
Frankly, I'm surprised that the wireless carriers would even allow this level of access into their network.  Unless, of course, these companies can figure out a way of doing it directly into the handset.  Either way, it will require very low level access to either the handset or the carrier network to inject this level of audio into a conversation.  The trouble, of course, is what happens when their system goes haywire and injects audio at inappropriate times?  And, you know this will happen.  This isn't going to make either caller very happy, especially if this happens during a business call or a conference call.  I just see failure written all over this.